Catalogue of images for art auction March 12th, Community Gallery, 20 Princes St, Dunedin, please refresh the page on your browser each time you look at it.
On March 12th there will be an auction of works by over 25 New Zealand artists and by one English artist to raise funds for the stained-glass window in honour of Rev. Arnold Spencer-Smith.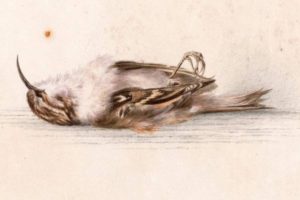 No.1. Treecreeper (1899), by Edward Wilson Reproduction of watercolour. Dr. Edward Wilson (1872-1912), was an English polar explorer, ornithologist, natural historian, physician and artist who died with Captain Robert Falcon Scott and three others on their return from the South Pole in 1912.
Wilson's artwork and objects relating to him appear in several museum collections. The largest collection of his artwork is held at the Scott Polar Research Institute at the University of Cambridge, which cares for over 200 watercolours of British birds by Wilson, as well as a further 150 paintings made in Antarctica.
The New Zealand Antarctic Heritage Trust has kindly donated a reproduction of Dr. Edward Wilson's watercolour 'Treecreeper' (1899) for the auction.
For further information about the discovery of Dr. Wilson's watercolour in Antarctica please follow the link: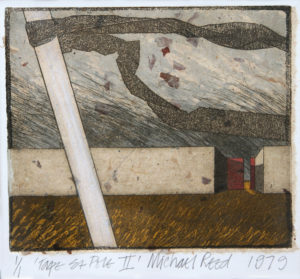 No. 2. Tape & Pole II, 1/1 (1979), by Michael Reed Coloured etching (190mm x 180mm). Born in Christchurch in 1950, much of Reed's work is aligned with the long history of printmaking as a vehicle for social and political comment. The versatility of print provides him with the opportunity to mix old and new media and materials in a variety of formats and scales, both traditional and non-traditional. This has resulted in an ongoing series of works on paper and textile, along with a variety of works that reference the heritage of the medal. Since 1999 he has worked on a number of collaborative print projects with artists from Australia, Austria, Cuba, Denmark, Germany, Japan, Mexico, Poland, Serbia, South Africa, Spain, The Netherlands, USA, and New Zealand.
No. 3. Silverpeaks, 10/12 (2006), by Inge Doesburg Born Düsseldorf, Germany, 1965 Doesburg graduated from the Otago School of Art in 1993. Her style, variously described as following in the footsteps of McCahon and William Hodges, depicts brooding landscapes, relieved by flashes of light.
No. 4. The beginning, 26/30 (1980), by Jeffrey Harris Etching (226mm x 275mm). Born in 1949, Harris started his career in Christchurch, moving to Dunedin in 1969. In the early 1980s he worked briefly in the United States, before moving to Melbourne in 1986. In 2000 he returned to Dunedin, Harris has painted full-time since 1970.
No. 5. Red Gourd (2020), by Riki Julin Ceramic pot. Well-known Dunedin potter Riki Julin is a graduate of the Dunedin School of Art. Riki is based at Scapes gallery in Caversham, is a member of Stuart St Potters' Collective and teaches pottery.
No. 6. AM Home to Roost, 1/3 lmp (November 1985), by Dee Copland Since the late 1970s Dunedin- based printmaker Dee (Denise) Copland has explored the fraught tensions between humanity and the natural world. Primarily focused upon New Zealand and the Southern Hemisphere, this has included an interest in environmentalism, de-forestation and climate change. Underlying the subjects of her work has been humanity's influence on the natural world and the tenuous nature of our survival. Copland graduated from the University of Canterbury, First Class Honours in Printmaking (1977), and lectured at the School of Fine Arts 1982-84. Copland is recognised as one of New Zealand's foremost printmakers, exhibiting nationally and internationally over the past thirty years.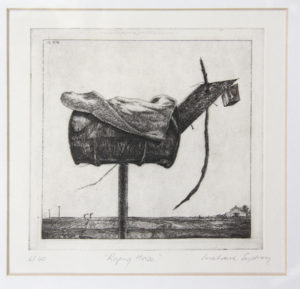 No. 7. Roping Horse 6/40, by Grahame Sydney Etching. Born in Dunedin in 1948, he is based in Central Otago. Since beginning his professional art life in 1974 he has worked as a painter (in egg tempera, oil and watercolour), printmaker (etching and lithography), photographer and writer. Sydney has been the subject of several major exhibitions. His work is held in public institutions (including Museum of New Zealand Te Papa Tongarewa) and private collections throughout the world. He now rarely exhibits publicly, occasionally collaborating with galleries but mainly working with a private client list. In the 2004 New Year's Honours, Sydney was made an Officer of the New Zealand Order of Merit for services to painting.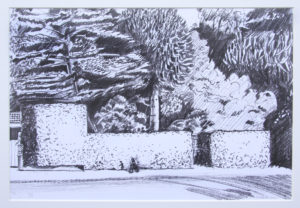 No. 8. Hedge, North East Valley,  by Peter Nicholls. Drawing. Born in 1936 in Whanganui, Peter was educated at Canterbury University School of Fine Arts and Auckland Teachers' College, Eam School of Fine Arts and the University of Wisconsin-Superior. He taught at Otago Polytechnic School of Art from 1979-2001. As well as drawings, Peter creates large, outdoor works. His sculptures, often combining steel and native timbers, comment on the New Zealand landscape and its colonial history. Nicholls has exhibited extensively since 1963 and is considered one of New Zealand's leading sculptors of public art.

No. 9. Nurture, by Peter Nicholls. Coloured pencil drawing.
No. 10. Towards the Chasm, by Peter Nicholls. Drawing.
No. 11. Mountain River, by Richard Laing. Photograph. Scottish-born Laing is a fine art photographer based in Kaiapoi. He works mainly on landscape images in and around the South Island.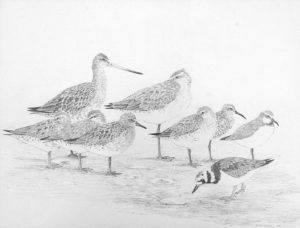 No. 12. Godwits, by Keith Woodley. Limited reproduction. Woodley is the full-time manager of the Miranda Shorebird Centre on the Firth of Thames. He has hosted thousands of people at the Centre and given hundreds of talks on the subject of shorebird migration. He is the author of Godwits- Long-haul Champions(2009) and Shorebirds of New Zealand- Sharing the Margins (2012).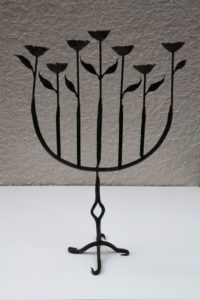 No. 13 Menorah, by Heather Kilgour. Forged steel. Born in Hamilton 1969, Kilgour is a graduate of the Dunedin School of Art and the Royal Melbourne Institute of Technology, majoring in sculpture. She worked as sculptor on The Lord of the Rings films, currently she works as a children's book illustrator in London. The Menorah was sculpted on the forge at the Dunedin Gas Works.
No. 14. Little River Blocks, by Liz Abbott. Oil on wood.  Abbott works full-time as an artist from her central Dunedin studio, drawing inspiration for her original oil paintings and pastels from the landscape around her. A well-known New Zealand painter, she has twice won the Telecom Art Awards in the Otago region and won the Cleveland Small Works Award in 2005. Liz gained a Master of Fine Arts in painting in 2003.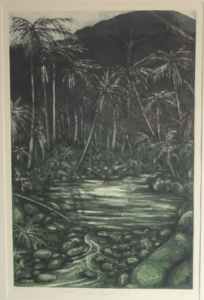 No. 15. Fiordland Rainforest, Doubtful Sound 1/6, by Jo Ogier Jo is an MFA graduate from the Otago School of Art and holds a Diploma in Plant and Wildlife Illustration (NSW Australia), along with a series of scholarships and awards – including the William Hodges Fellowship awarded to her in 2000. Ogier is concerned with issues of conservation, ecology and the individual's role in nurturing, protecting and preserving our world. Through her finely crafted watercolours, drawings and woodcuts she seeks to promote public awareness of the many endemic species of flora and fauna in New Zealand.
No. 16. Tools of the trade, by Robert West. Oil paint, collage and letraset on board.  Robert attended Leeds Polytechnic School of Art in West Yorkshire UK, and obtained a Masters of Fine Art (Printmaking) from Camberwell College of Art and Design in London.  Since moving to New Zealand in 1996, he has exhibited his paintings, prints, and multi-media work regularly across the country. Finalist Wallace Art Awards 2012, Finalist Parkin Drawing Prize 2017, Finalist Parkin Drawing Prize 2018.
No. 17. untitled, by Donogh Hurley.  Watercolour. Born in Cork in 1921, Hurley studied medicine and painting in the United Kingdom from 1939 until 1946. He worked as a physician in Japan, Uganda, Kenya and Zanzibar. In 1969 he moved to Gore as the Surgeon Superintendent at Gore Hospital. He remained there until his death in 1977. He regarded surgery and painting as equally important. He believed that surgery was on one side of the balance and painting the other and that this created an equilibrium. His work is held in public and private collections internationally.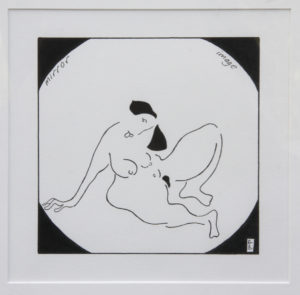 No. 18. Mirror Image, by Rick Norris Ink drawing Rick Norris 1948-2013 was a multi-talented Dunedin artist, musician, designer and craftsman. Rick worked in a wide variety of media, his works are held in private collections nationally.
No. 19. Whispers, by Rick Norris Ink drawing.
No. 20. Walking Bowl, (2001) by Christine Boswijk. Ceramic bowl, 29 cm across. Born in Christchurch in 1939, Boswijk is a highly regarded ceramic artist who now lives in retirement in Nelson. She is a  graduate of the Otago Polytechnic School of Art and the National Art School, East Sydney Technical College. Her work is held in the collections of Te Papa Tongarewa, the Dowse Art Gallery, the Museum of Taipei and the Aberystwyth University ceramics collection. In the 2004 Queen's Birthday honours Boswijk was appointed an Officer of the New Zealand Order of Merit for service to ceramic arts.
No. 21. Crowned Heads, 5/17(1983), by John Robinson. Lino cut. Born 1953 in Foxton, Robinson has lived in Dunedin since 1978. He worked as a jeweller before studying at the Otago Polytechnic School of Art. He graduated with a Diploma in Fine Arts, and later with an Honours Diploma. Robinson has worked as a designer, jeweller, painter, print-maker and sculptor.
No. 22. Green Man, (1992), by Kirk Nicholls Stained terracotta. Kirk is a Whanganui based sculptor whose work featured in the Lord of the Rings films. He is one of New Zealand's leading contemporary neo-classical sculptors. In 2017 a set of 14 ceramic sculptures of the Way of the Cross by Nicholls was installed in All Saints' Church, Dunedin.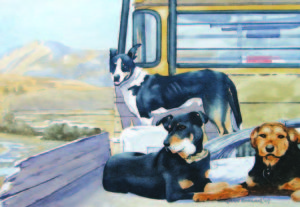 No. 23. Dogs on Toyota, (2007), by Norman Sinclair Watercolour on cotton paper. Born in 1950, Norman Sinclair was raised in Portobello on the Otago Peninsula. Sinclair's early exposure to English water-colourist Frank Reid was the greatest influence on his career. Watercolour has become a lifelong fascination for Sinclair who paints fulltime. Sinclair specialises in depicting high country scenes.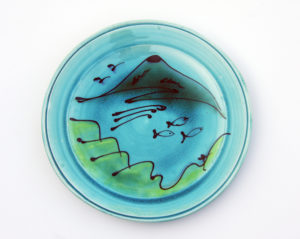 No. 24. The Otago Harbour, (2020), by Judy Ringland-Stewart Ceramic plate.  Ringland-Stewart is a graduate of the Otago Polytechnic School of Art and a winner of the School of Art's 2001 ceramics prize. A member of the Stuart Street Potters' Co-operative, Judy's work references traditional ceramics but her forms are original and individual. Judy works from one of the bays around the Otago Harbour between Port Chalmers and Aramoana.
No.25. The Light 1/3 (2020), by Manu Berry A reduction woodcut print with some monoprint elements. 'The work depicts the Eucharist given by Spencer-Smith upon the return of the light after a long winter in Scott's hut, with Mt. Erebus in the background.' Berry has exhibited regularly in galleries around New Zealand, particularly in the South Island, since 2000, in solo and group shows and was a prizewinner in the Mainland Art Awards in 2005.